Most businesses have a desire to increase their storage capacity. For many business owners it is simply not financially feasible to move to bigger premises and therefore, they need a new storage strategy that won't break the bank. Euro boxes (also known as euro stacking containers) are one cost effective way to transform the storage capacity of your business.
When combined with additional products, euro stacking containers can not only save you space, they can save you money in the long run. It is rare to find a business that doesn't want to improve their efficiency. Euro crates are one of the cheapest ways to achieve this.
What are Euro Crates?
Euro crates, also known as euro stacking containers or euro boxes, are a type of storage container which have been specifically designed to fit onto a European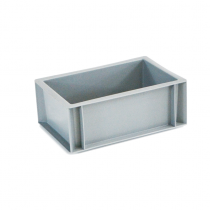 pallet. They were originally used in the automotive industry but quickly became popular across a whole multitude of businesses.
One of the qualities of these containers that makes them so popular amongst businesses is their stacking capabilities. This allows them to be sat safely on top of one another, meaning that they take up less room in the workplace.
When They Work Best
Although euro crates on their own are highly functional and can store many items safely, they also work incredibly well with additional products. If you combine your euro container with other products, you will see your productivity increase rapidly. Exporta Global are one company which stocks many additional products for use with euro crates. Some of the additional products that they stock are:
Euro Container Dolly – This is a device that is designed to transport euro crates when they are full. Full containers can be heavy and unsafe to move manually. This is
where a dolly comes in. They can withstand a huge amount of weight and allow heavy containers to be moved around the workplace with ease.
Dividers – It is a common habit that businesses only half fill their storage containers, simply because they want to keep their products separate. Euro container dividers exist specifically to allow multiple products to be kept within the one containers but kept separate. This is handy for a business that stores smaller items as these can be easily lost when mixed up. Dividers allow you to find and retrieve items with ease without having to look too hard.
Lids – You run the risk of allowing products to become damaged if they are left uncovered. Dirt, water and dust are all common contaminants to items within storage facilities. Using a lid will allow you to completely shield and protect items within your euro stacking containers.
Summary
If you invest in high quality containers like euro crates, you will be able to maximise the space you have available and become more efficient as a business. In using additional products with your containers you are able to protect the goods stored within and allow them to be retrieved and moved with ease.
For more information on Euro crates, visit the Exporta website: https://www.exportaglobal.co.uk/